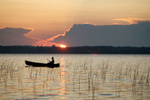 Travel Directions: The park is only accessible by boat, 5 miles from Kill Kare State Park in St, Albans. Use directions to Kill Kare State Park
---
1 Knight Island 2714 Hathaway Point Road North Hero, VT 05474
Phone: (802) 524-6853 | Alt. Phone: (888) 409-7570
May 30 to August 1
Email:
Web: https://vtstateparks.com/knightisland.html
Sites: 1 No Hookups / Total Sites: 7
Rental Units: Lean-tos - 6
Amenities:
Recreation: Fishing / Hike & Bike / Swimming: Lake
Nearby Cities / Towns: Horth Hero, St. Albans
Description: Knight Island is a "remote area" campground on a 185 acre island. Sanitary facilities are minimal, and there is no potable water supply. The island's campsites, six of them with rustic log lean-tos, are situated approximately equidistant around the 2 ½- mile shoreline, and are connected by a trail system.